Android market share keeps increasing. iPhone owners in the media seem to be getting jittery, looking to question Android on as many points as they can think of.
I'm curious to see so many articles, like on Econsultancy, Computerworld and Read The Web, questioning the numbers about Android dominance or questioning the quality of the apps and also questioning people like Fed Wilson here. "He is wrong" about the importance and future dominance of the Android platform (imagine Voldemort's voice). At TechWatch, we are told Android is "a threat to the more expensive likes of the iPhone". It's as if they're scared their own iPhone may not be the predominant phone in the market and that Apps will first be built for Android OS (Operating System) and then maybe for Apple 😉
Wilson's data is solid and obviously his detractors (Apple's friends in the media) need to explain why other things are more important to try and stop this from happening.... I'm surprised that haven't started saying, the "OS-That-Must-Not-Be-Named" just to make it a bit more dramatic...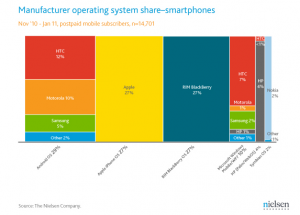 The fact that Android is attracting a higher percentage of younger users is also an interesting point to take into account for market share evolution, and which OS the younger population will be used to when they get older...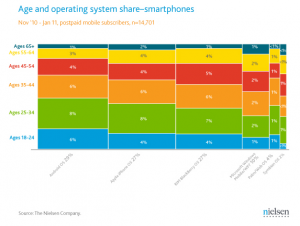 Love the comment on Nielsen's blog about Seniors, it's so true, make it easy to use:
Elie Gindi, founder of the senior-focused tech blog ElderGadget, recently told me that the people who follow him and his writers are interested and excited by gadgets and new technologies.

"If it's good technology, seniors embrace it the same as everyone else," he said. "The key here is if it is truly 'good' and they see a real use for it, whether for entertainment or business or lifestyle. They are smart shoppers who aren't so much interested in [the] useless 'bells and whistles' many products contain."
Ref: Nielsen
Media people in general are far more likely to use Apple hardware; hey its cool isn't it. Journalists and people in the media in general are used to their Apple "iOS" and would prefer not to have to change. When I tried to get my girlfriend to change to a Motorola Droid she didn't like the fact it was different even though I find all the same apps for her. She also later on decided it may not be as bad as that, when someone in Gossip girl used one. Ah the media again, even if it was helpful but too late...
Apple's current position results from first mover, intelligent marketing and of course great software and hardware effects.
But as Reghardware points out, in 2010 Apple's iPhone 4 "is essentially much the same product" whereas the competitors are getting better and better.
The quantity and variety argument will soon apply to Android but I find so many in both cases pretty useless so I disregard both these arguments completely. Blackberry still beats Android and iPhone hands down on Email. Even K9 on Android doesn't provide search like on a Blackberry. Don't even mention the email system on Maemo for my N900, so frustrating...
However an important argument from my point of view is what the system allows you to do. Apple does not and will continue to lock things down far more than Android. If you take the example of Innobel, this app that launched recently will not work and cannot work on iOS because Apple has locked down the functionalities that would like on Android allow you to share info with a caller while on the call. The situation is similar to how Windows 'has' to work with so many types of hardware, whereas Mac OS only has to work with its own limited range of hardware.
Had to drop this in though: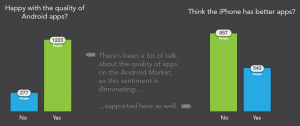 from a Qriously survey which I'm guessing wasn't done on an iPhone like in the example below: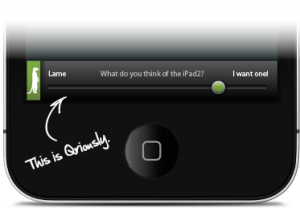 On a side note, I must just say, the first company to provide a Smartphone with the following will be my best friends for ever and in return I'll be their client, good deal no? I'd like a solid and powerful Smartphone with large onboard memory plus expandable memory, a good camera (above 8 mega pixels plus quality lens), with sturdy touchscreen and physical keyboard, with, and this is the important part, a battery that can be ejected and replaced with another one, without having to take the case + the back of the phone off. This is a winner for me! And all of the above is never going to happen with Apple, because they lock down hardware so much that the only option you have is to buy a new one, oh yes (and a case + a manual on how to hold it when you call). When will people learn...?
Update (08 Apr): What was I saying, and then I come across such a waste of time article on ReadWriteWeb where the iPhone lover journalist complains that his phone froze when trying to install Flickr on an Android phone. As if that never happens on an iPhone...